In the upcoming episode of "The Bold and the Beautiful" scheduled for Wednesday, October 18, there's a lot of unraveling drama.
Li Finnegan finds herself in a difficult situation as her explanation fails to satisfy John "Finn" Finnegan.
Li openly admitted that her life was turned upside down by Poppy Nozawa many years ago, and she vowed never to forgive her.
However, Finn, seeking clarity, presses for more details.
Despite Li's deep-seated resentment for Poppy, Finn struggles to grasp why she's taking it out on Luna Nozawa and attempting to push her away from Forrester Creations.
Finn is determined to piece together the puzzle and understand the whole truth.
Li's vague explanations leave him unsatisfied, and he urges her to reveal the full story.
The Bold and the Beautiful spoilers suggest that Li will eventually succumb to Finn's persistent questioning, feeling compelled to come clean about the real reason behind her efforts to essentially banish Poppy and Luna from their lives.
Finn's observation that Luna and Aunt Poppy disappeared suddenly hints at a momentous revelation that altered the dynamics between the sisters.
It's possible that Poppy confessed to having an affair with Jack Finnegan and revealed that he is Luna's father.
This revelation may have been kept secret from Jack, as Li was seemingly desperate to avoid bringing shame upon the family.
Li's evident outrage suggests that something significant transpired between the sisters, making the revelation about Luna's true parentage a likely scenario.
In this context, Li may confess to Finn that Luna is, in fact, his half-sister, a revelation that is sure to shock him profoundly.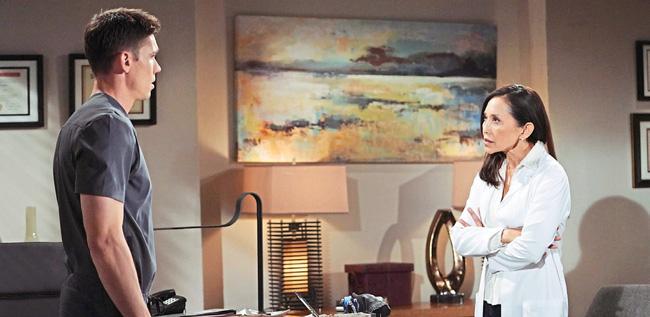 Meanwhile, Brooke Logan grapples with mounting concerns about the escalating tension between Ridge Forrester  and Eric Forrester over their fashion showdown.
She fears that their rivalry could potentially irreparably damage their relationship if not handled delicately.
Brooke is deeply worried about the growing divide between the two men, and she recognizes the need for them to find a way to mend their fractured bonds.
At the Forrester mansion, Donna Logan takes action by calling Dr. Colin Colby regarding Eric's alarming symptoms of coughing up blood.
Donna's fear intensifies as she contemplates the possibility of a grim fate for Eric. Dr. Colby's arrival prompts concerns about Eric's health, and Donna seeks reassurance about his prognosis.
Dr. Colby acknowledges that it may be too early to make definitive conclusions, particularly since he was unaware of Eric's latest symptom until Donna reached out.
Eric's bouts of bloody coughing may prompt a reconsideration of his medical condition, leading to additional tests.
Despite the mounting concerns and Dr. Colby's warnings about the stress associated with the fashion challenge, Eric remains resolute in his determination to pour all his energy into creating his grand finale collection.
Fearing that this may be his last opportunity to leave a lasting legacy in the fashion world, Eric is unwavering in his commitment to make this collection his best ever.
Donna watches with growing concern as Eric stands his ground, fearing that this runway faceoff could lead to disastrous consequences.
As the drama unfolds, fans of "The Bold and the Beautiful" can expect more shocking revelations, strained relationships, and high-stakes challenges.
Stay tuned for further updates on this captivating storyline.