On Tuesday, October 24, in the captivating world of Days of Our Lives, a series of intriguing developments are set to unfold.
The focus shifts to the enigmatic duo of Leo Stark and Dimitri von Leuschner, who find themselves in a precarious situation after Leo's daring rescue mission to free Dimitri from police custody.
As they continue to evade the law, Leo and Dimitri will engage in contemplation about their uncertain future, pondering the choices that lie ahead.
Elsewhere in Salem, the relentless pursuit of justice continues as Kayla Johnson takes a seat with Rafe Hernandez within the confines of the Salem Police Department.
This meeting could potentially involve discussions about Dimitri's audacious escape from the hospital and any valuable information that Kayla can provide regarding the ongoing investigation.
Meanwhile, the professional world of the Salem PD experiences a significant shift with the arrival of Harris Michaels, who assumes his duties.
Jada Hunter extends a welcoming gesture to her new partner, eagerly shaking hands as they embark on their partnership.
In light of the mounting caseload, Rafe harbors hopes of Harris and Jada forging a strong and effective team.
Their primary task initially involves tracking down the fugitive duo of Leo and Dimitri, diverting their attention from the mystery of Susan Banks's delivery to Edmund Crumb.
However, Ava Vitali remains privy to the truth behind the Susan Banks situation, knowing that Clyde Weston orchestrated the delivery.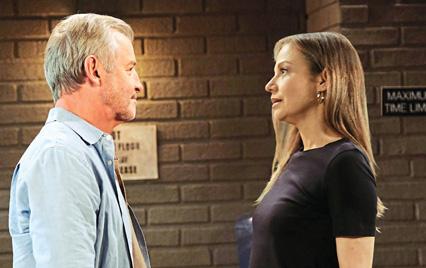 Blaming Ava for the loss of his leverage over EJ DiMera, Clyde exerts pressure on her to manage his new pharmaceutical empire under EJ's guise.
To maintain her cover story, Clyde secures Ava a job at The Bistro, but not without an ominous touch.
He dispatches a menacing individual named Gil Carter to convey the details, a move that is bound to instill tension.
As Gil arrives at Tripp Johnson's apartment, a palpable sense of unease permeates the atmosphere.
However, Gil expertly masks his true intentions, feigning enthusiasm while delivering what appears to be positive news regarding Ava's new job.
Tripp, unaware of the underlying threats, responds with genuine happiness for her.
Subsequently, in the town square, Gil confronts Ava once more.
Making it unequivocally clear that Clyde wields the power to issue fatal orders against Tripp unless she complies with his demands.
Meanwhile, the ever-shrewd Kate Roberts Brady receives updates regarding Harris's swift appointment at the Salem PD, leaving her somewhat taken aback.
While Kate had initially suggested Harris for the position, the speed of his hiring may surprise her.
Furthermore, Rafe makes another addition to his team by bringing Wendy Shin on board.
Wendy's impressive skills may prove instrumental in advancing the investigation.
Whether by hacking security footage or other means, inching closer to the apprehension of Leo and Dimitri.
Amidst the chaos and tension, a moment of respite awaits as Wendy treats Tripp to a soothing massage in the bedroom.
Providing a brief oasis of relaxation for the couple.
However, the tranquility may be fleeting, as both Tripp and Wendy are on the brink of life-altering challenges.
As Days of Our Lives continues to unfold its riveting narrative, Clyde's disruptive influence looms large, casting shadows over Ava and those in her orbit.
Stay tuned to Days of Our Lives for the latest twists and turns in this enthralling saga.
For the hottest Days of Our Lives spoilers, updates, and news, make sure to frequent Sadly, your premier source for all things Days of Our Lives.