Could Theresa Donovan face exclusion in the near future on "Days of our lives"?
Recent spoilers have led us to believe that we've uncovered all the details of the Alex/Xander double-cross saga.
Contrary to earlier assumptions, it turns out that Xander, not Alex, is Victor's illegitimate son.
This revelation follows the discovery that Theresa, with assistance from Konstantin, manipulated the letter supposedly from "Alexander's" mother.
Theresa currently believes she's in a favorable position, but what if there's another layer to this narrative?
Days of our lives Spoilers Speculation
Konstantin and Victor go way, way back. Way back enough that he has photos he brought Maggie of them as young men together.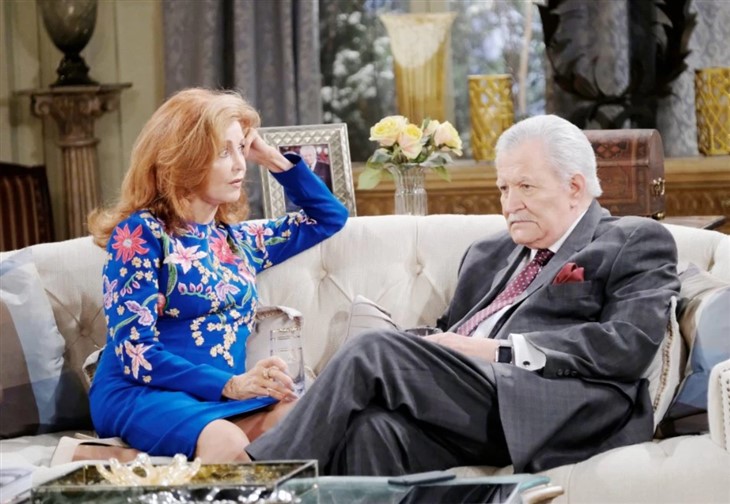 Maybe, just maybe, Victor really did loan Konstantin the money to open his restaurant and refused to accept payback — or even a free meal.
Days of our Lives: A Long Con
Maggie and Brady agreed that didn't sound like Victor, but what do they know?
Konstantin obviously thought Victor still owed him something, which was why he was so furious to not be bequeathed anything.
So, there's a lot here Theresa — and we — might be missing.
Konstantin said he knew that Victor had an affair with his brother, Titus's, wife – Xander's mother.
How exactly did he know that? Either Victor told him or Titus's wife told him.
And, why would she share such a thing with a random taverna owner? Oh, we don't know. Was it because Titus's wife was also having an affair with Konstantin?
Days of our lives: Pay Out
Titus's wife obviously did not get pregnant by Titus, since nobody seems to think that's an option.
But, what if she got pregnant by Konstantin? What if they decided together to make Victor think he was the father?
They probably hoped Victor would just write them a check to get rid of the problem. Or monthly checks to support the problem.
It doesn't sound like he did either of those things, though.
Maybe, Konstantin convinced Victor to leave him some money some other way but Victor went back on his promise. So now everybody pays!
Days of our Lives airs weekdays on Peacock+ in the U.S. and The W Network or Global TV App in Canada.
For more about what's coming up in Salem, check out all the latest Days of our lives spoilers, and for an in-depth look at the show's history, click here sadly.info.