Days of Our Lives Spoilers for November 2, 2023: EJ's Wedding Day Takes a Shocking Turn!
In the latest Days of Our Lives spoilers, EJ's eagerly awaited wedding day takes an unexpected twist, setting the stage for a riveting episode.
Wedding Woes:
EJ finds himself in hot water as he comically disapproves of a pregnant woman's choices, leading to a humorous confrontation with Chad. Meanwhile.
Nicole attempts to console a disgruntled Eric, who inquires about her impending nuptials with EJ, exposing Holly's lack of enthusiasm.
Emotional Revelations:
Nicole and Eric delve into their complicated history and the reasons behind their choices.
Nicole insists that she and EJ have finally come to see each other clearly, acknowledging their imperfections.
Eric, however, presses her on her true feelings, leading to a revealing conversation about their past.
A Mother's Advice:
Eric confides in Marlena about his desire to move on from Nicole and seeks advice on finding a path forward.
Marlena encourages him to introspect and determine what he truly wants.
Holly's Confession:
At the DiMera mansion, Holly confesses to Johnny that she has a crush on his father, EJ.
Johnny responds with understanding and support, refusing to judge his sister.
Li's Dilemma:
Li's mission to rescue Gabi takes an unexpected turn when he encounters Rolf, who claims to represent Megan.
Rolf informs Li about Megan's plan to use Gabi as leverage to gain control of DiMera Enterprises, including a scheme to exchange her for Stefan's shares.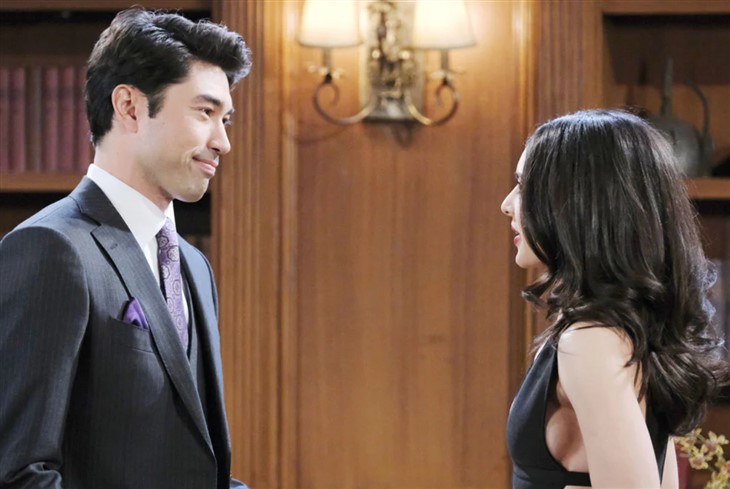 Li is left with a difficult decision.
Reckoning with the Past:
Li grapples with his past actions and admits to undergoing therapy to mend his relationship with Gabi.
Gabi, however, reveals that she has recorded incriminating evidence against him, leaving Li with a choice to make.
The Wedding:
EJ and Nicole exchange their vows and become husband and wife, but their joy is short-lived as Stefan and Gabi crash the ceremony, announcing EJ's termination.
Don't miss this dramatic episode of Days of Our Lives, airing on Peacock+ in the U.S. and The W Network or Global TV App in Canada.
For more tantalizing spoilers and a deeper dive into the show's rich history, stay tuned at Sadly.info for upcoming developments in Salem!