Discover what the Days of our Lives spoilers from November 6 to November 10, 2023, have in store for your beloved characters in Salem.
The upcoming episodes of Days of our Lives promise the introduction of a mystery, the emergence of a new rivalry, and a whole lot of exciting developments.
You definitely won't want to skip this week's episodes!
Days of our Lives Spoilers Highlights
Operation: Bait Li And Use Him To Further Their Own Ends hits a major snag when Gabi stumbles upon his prone, injured body, yanks the knife protruding from his back and gets caught in the act by her hubs.
Gabi, of course, swears blind that she's not the one responsible for Li's predicament, and Stefan, of course, believes her.
Unfortunately, the deck is very much stacked against her. The evidence points to her being the stabber, Wendy fingers her as the most probable of suspects, and with his dying breath, Li casts aspersions.
With evidence like that, what's a police commissioner to do but slap the cuffs on his baby sister?
Days of our Lives Spoilers: Competiton
Chad has his first encounter with Everett and it is far from a pleasant one, mostly owing to the circumstances.
He comes upon Everett deep in conversation with Stephanie and then learns of their connection.
Chad is further perturbed to hear that his potential love rival is sticking around Salem for the long haul and has found gainful employment at The Spectator.
Days of our Lives Spoilers: Odds and Ends
In other Days of our Lives spoilers news, EJ sets business aside to celebrate his wedding night, tensions arise in the custody battle between Sarah and Xander, and Paulina plays the ace up her sleeve.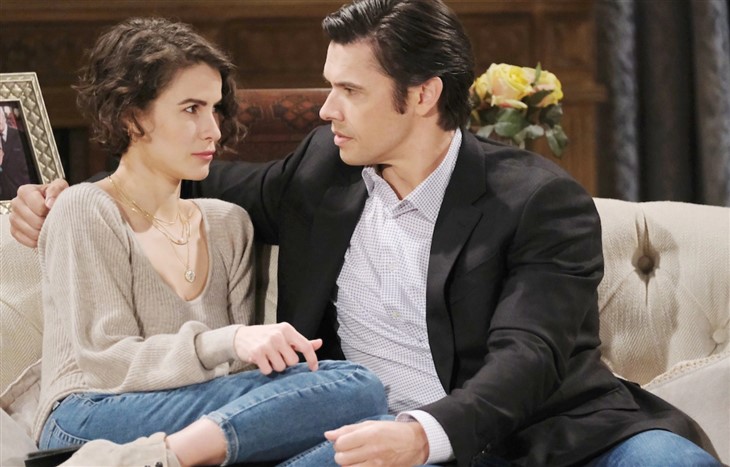 Meanwhile, Days of our Lives celebrates its 58th anniversary with special scenes that see Maggie reminisce about Victor, and John and Marlena ring in their own anniversary.
Finally, Days of our Lives spoilers have Melinda getting her grubby little hands on a baby for Eric and Sloan. What could possibly go wrong?
Days of our Lives airs weekdays on Peacock+ in the U.S. and The W Network or Global TV App in Canada.
For more about what's coming up in Salem, check out all the latest Days of our Lives spoilers, and for an in-depth look at the show's history, click Sadly.info.