In a spoiler-filled turn for the "Days of Our Lives" episode dated November 3, 2023, Li Shin is discovered seemingly lifeless, an apparent victim of Gabi's wrath.
Spoilers for Days of our Lives
Moreover, Stephanie finds out her former flame remains in Salem, Chad receives valuable counsel from his brother's wife, and Eric takes Sloan as his wife. Let's delve into the details.
Days of our Lives Spoilers: A Deadly Encounter
Marlena called Li after a strenuous session, warning him of lingering danger. Li, feigning detachment from Gabi and wielding a knife with a sinister glint in his eye, dismissed Dr. Evans's worries.
Li's distress is compounded when Wendy confronts him over a concerning voicemail.
He recounts Stefan and Gabi's deceitful maneuvers, which coerced him into relinquishing his DiMera Enterprises shares, a secret he's not keen on disclosing.
His greater concern is his father's reaction to his defeat, fearing Wei will intervene and exacerbate his troubles.
Reflecting on his past, Li connects his fixation on Gabi to a previous romantic loss, expressing bitter resentment towards her.
Meanwhile, Gabi and Stefan relish the prospect of ejecting EJ from DiMera Enterprises, prompting EJ's vow for retribution.
As the day progresses, EJ is deposed, and Stefan ascends as CEO, only to find Gabi with a knife over Li's blood-soaked body.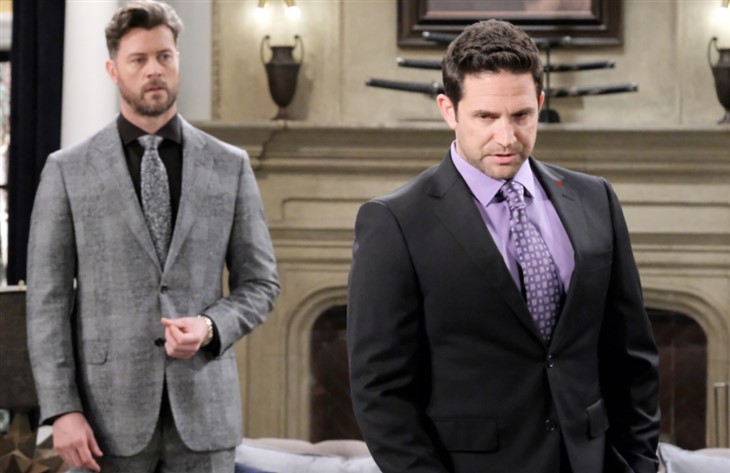 Days of our Lives Spoilers: Rash Decisions
Elsewhere, Eric and Sloan rush into marriage, driven by their love and the anticipation of starting a family.
Despite the whirlwind nuptials, Eric reassures Sloan of his unwavering commitment after their wedding night.
Days of our Lives Spoilers: Matters of the Heart
In the DiMera mansion, Nicole laments her lingering feelings for Eric, despite her current marriage to EJ, and encourages Chad to pursue happiness with Stephanie despite his reservations.
Stephanie's dismay is heightened when she encounters Everett, who's decided to stay in Salem as The Spectator's Editor in Chief.
Despite her protests, she's visibly affected by his choice, a sentiment that's not lost on Chad when he sees them in a close embrace.
"Days of our Lives" airs on weekdays, offering a blend of romance, drama, and intrigue for its audience.
For more about what's coming up in Salem, check out all the latest Days of our Lives spoilers, and for an in-depth look at the show's history, click Sadly.info.