Days of Our Lives spoilers and updates suggest that Nicole Walker DiMera is about to face a nightmare, while Dimitri Von Leuschner proves not to be the hero.
Leo Stark assists in the baby's delivery, and Dimitri transports him to the hospital.
However, there's a twist – the baby is mysteriously missing from the hospital later on!
Days Of Our Lives Spoilers – A Crash, A Concussion, And A Complication
Nicole is on the same road at the same time as Leo and Dimitri, who took off on the run after Detective Jada Hunter closed in.
Dimitri gave her a bad head headache, likely causing a concussion when he knocked her out with the butt of her gun, which Leo wiped off and tossed on the bed.
She called her boss, Police Commissioner Rafe Hernandez who'll later take her to the hospital.
Days Of Our Lives Spoilers: Nicole's Nightmare Begins, Dimitri's No Hero-What Happened To The Baby?
In the meantime, Nicole's car and Jada's, who Leo and Dimitri stole crash on the dark road of the highway.
Nicole goes into premature labor, Leo delivers the baby, but there's a complication-Dimitri runs off to get the baby to the hospital while Leo stays with Nicole.
Days Of Our Lives Spoilers – Just Being Cautious, Coincidental Helper
Nicole wants the baby to stay with her, but since it's premature, Leo thinks it best to get him to the hospital while he waits with her for help to arrive.
They don't know if anything is wrong with Nicole having been in a crash, so Leo convinces her to stay with him while Dimitri goes.
Totally by coincidence, Eric Brady shows up and stops, seeing Nicole in distress by the side of the road and Leo with her.
At that point, Leo takes off to find Dimitri and rejoin him, so he'll show up at Salem University Hospital, while Eric now stays with Nicole, who now feels safe.
Of course, the first thing Eric wants to know, noticing the absence of a baby belly is what happened to the baby, and Nicole explains-but worries!
Days Of Our Lives Spoilers – Panic And Fear Set In
Nicole's panic and fear set in as she worries how her premature baby boy is doing, she finally got to carry a baby almost full term and now he's not there!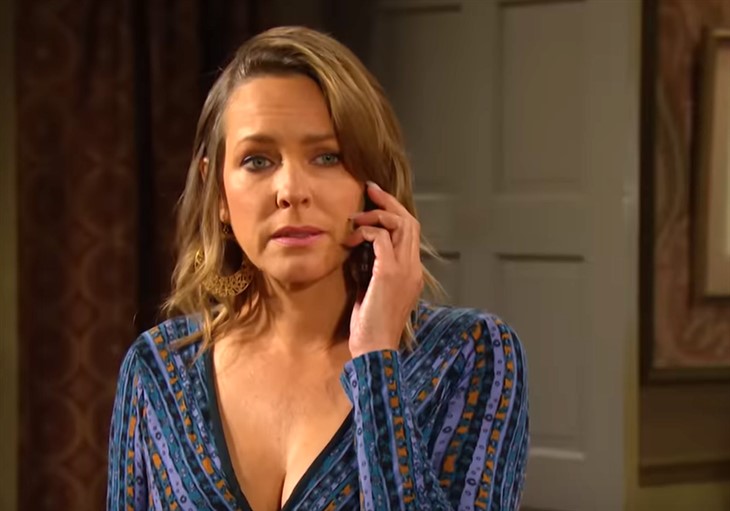 She wonders if he's eaten, if he survived the trip to Salem University Hospital with Dimitri-Eric for sure doesn't trust him.
Not long after, EJ DiMera finds them and he's upset and wondering where the baby is too-once Nicole is in the hospital they find him not there.
As far as Dimitri and Leo are concerned, the police have caught up to them and they're taken into custody.
But what did Dimitri do with the baby when he got to the hospital; EJ screams at both of them in the Salem PD questioning room, "where is my son?!"
Be sure to catch up on everything happening with Days Of Our Lives right now. Come back Sadly.info often for Days Of Our Lives spoilers, news, and updates.