The early weekly spoilers for "Days of Our Lives" reveal that Xander Cook is reconsidering his stance on the custody dispute.
Meanwhile, Alex Kiriakis stumbles upon Theresa Donovan in a confrontation with her former partner.
Additionally, Sloan Petersen is on the brink of being unmasked in Peacock's streaming drama during the week of November 20-24, 2023.
Days of our Lives Early Weekly Spoilers: Xander Cooks Gives Up Fight?
Days of Our Lives early weekly spoilers indicate that Xander Cook may do right by his baby girl.
In fact, he's been fighting Sarah Horton for full custody of their daughter, Victoria Grace. And he wasn't afraid to play dirty.
Xander even hired a sketchy lawyer, Sloan Petersen.
However, Days of our Lives early weekly spoilers hint that Xander Cook could renegotiate terms with Sarah Horton.
Did his ex-mother-in-law, Maggie Horton, sway him to do right by Victoria and Sarah?
She knows what her daughter did was wrong when she kept her pregnancy hidden for nine months.
But she pleaded with Xander to reconsider what is best for their daughter. Victoria needs both parents in her life whether they reunite as a couple or not.
Additionally, Days of our Lives's early weekly spoilers suggest Xander decides to work things out without getting nasty and fighting in the courtroom.
This season's promo trailer also shows Xander Cook asking Sarah Horton to move in with him. Team Xarah is ready for the couple to get back together.
Further, Xander may need Sarah's guidance and support when he learns he is the true long-lost son of the late great Victor Kiriakis.
Will Days of our Lives fans see Xander and Sarah together again for the holidays for the baby's first Christmas?
Find out what Xander wants to do with the custody battle next week on the Peacock exclusive.
Days of our LivesEarly Weekly Spoilers: Alex Finds Theresa & Brady Arguing
Days of our Lives weekly spoilers report that Alex Kiriakis walks in on Theresa Donovan and Brady Black in a heated argument.
The new heir to Titan Industries knows that his roommate had a serious relationship with his relative.
Plus, they share a teenage son, Tate Black. So it's not surprising that they would be together.
However, Alex suspects Theresa may be trying to get back into a relationship with Brady Black.
The Days of Our Lives recap video shows Theresa and Brady kissing when she first returned to Salem.
Yet, he shut it down quickly and claims he's not that into her any longer. But we all know how Brady is with the ladies. He goes back to exes all the time.
Meanwhile, Days of our Lives early weekly spoilers suggest that Brady senses a secret.
Does he suspect Theresa is hiding something or has an agenda with him? Further, the Fall trailer shows them kissing again.
So what is all the fuss about? Why will they be fighting next week? Tune in to the Peacock app to find out.
Days Early Weekly Spoilers: Sneaky Sloan Petersen Could Slip Up
Days of Our Lives fans have been utterly disgusted with Sloan Petersen lately.
She schemed with Melinda Trask to keep Nicole Walker's newborn baby boy and pass him off as her adopted son.
To her credit, she did try to reason with the former DA. But Melinda keeps gaslighting her into thinking the plan is best for everybody.
Further, Eric Brady has no clue that he is about to adopt his biological son.
Elsewhere, Nicole and EJ DiMera grieve the loss of their baby boy after the doctor Trask hired lies about his demise.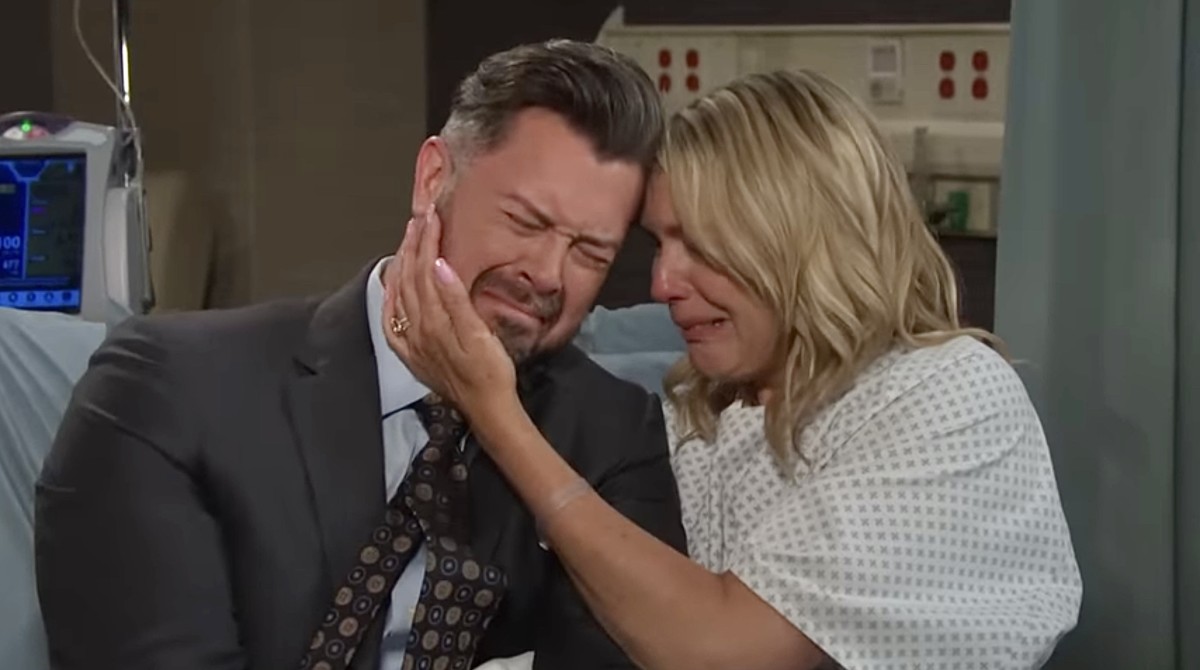 Days of our Lives early weekly spoilers divulge that Sloan's secret is close to being revealed.
What will happen when Nicole demands to see her son one last time?
It's a long shot that Sloan Petersen stands up to Melinda Trask and tells the truth on Days of our Lives. So, how does the secret unravel?
Additionally, Alex Kiriakis discovers Theresa Donovan and Brady Black fighting about something while Xander Cook could call a truce with Sarah Horton.
The drama continues the week of November 20-24, 2023, on the Peacock soap.
Return to Sadly.info to check out the latest Days of our Lives spoilers and news.