The latest updates from "Days of Our Lives" reveal that viewers can expect reduced appearances of Kate Roberts-Brady.
This change comes as Koslow transitions from a contracted to a recurring role on the show, a fact noted in the soap opera's credits.
This update was verified by Jason47, a Facebook page that focuses on Days of Our Lives.
Koslow, who has been under contract with the series since the 1990s, will continue to be part of "Days of Our Lives" in this new capacity.
Days of Our Lives Spoilers – The Show Has A Lot Of Recurring Players
The bad news is that fans won't see as much of Kate as they may like; however, the good news is that they'll still be seeing Ms. Roberts-Brady on occasion and when storylines dictate.
Days Of Our Lives Spoilers: Lauren Koslow No Longer On Contract, What's Next For Kate Roberts-Brady?
It's not overly shocking that Lauren is now a recurring status player, after all, Kate hasn't really had that much of a storyline since she returned "from the dead" and was a hostage of Dimitri von Leuschner.
Still, here's hoping that when she does pop up in the land of Salem, she's part of a juicy storyline of substance and not just used as a "filler" in scenes.
DOOL Spoilers – Kate Roberts's History In Salem
Kate Roberts first appeared in the little town in 1993 and was originally played by actress Deborah Adair.
After the first Kate exited in 1995, Ms. Koslow took over in 1996 and has been in the role since.
Kate had some great loves over the years, from Victor Kiriakis to Stefano DiMera, John Black, Jake DiMera, and Andre DiMera; however, she recently settled down with Roman Brady.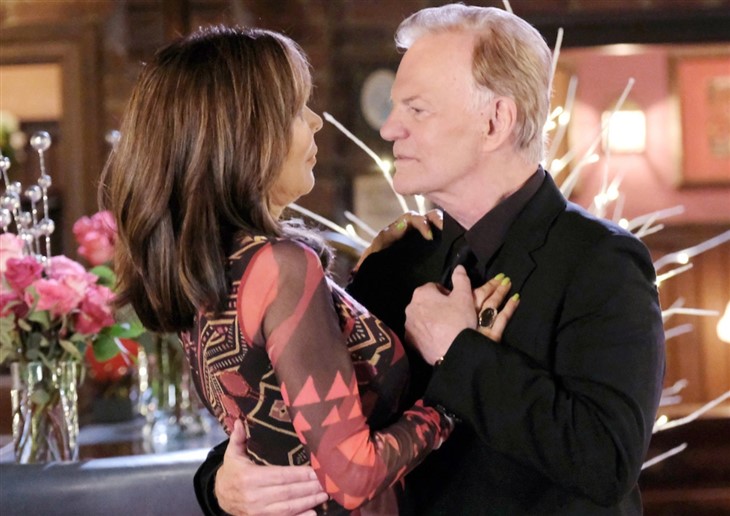 Over the years, Kate has had her ups and downs, but the one thing about her is that she's a fighter and survivor.
This could be the reason why she was able to battle with the Devil to get her life back, plus, share an epic rivalry with Sami Brady and live to tell the tale.
What will Kate be up to next? Only time will tell!
Will you miss seeing Kate on a regular basis? Share your thoughts in the comment section.
Tune into the popular Peacock soap daily to see what happens next and visit Sadly.info regularly for the best Days of Our Lives updates, spoilers, and news.