Marlena Evans Black has concerns about Eric's rapid pace.
In the upcoming episode of Days of our Lives on November 3, 2023, it becomes evident that Eric is about to make a significant life decision, causing Marlena to question his choices.
Be sure to watch and discover the reason behind all the commotion.
Days of our Lives Spoilers Highlights
Eric wants to get the most out of life. He and Sloan are in serious talks about adoption, but is a child all he's looking forward to?
He stuns Sloan and Marlena when he announces his life plans.
So, what is this big, impulsive decision that has jaws on the floor?
He's ready to become a dad, is he ready to become a husband, too?
Whatever it is, Marlena is on high alert and may want to have a chat with her son.
Days of our Lives Spoilers: Relationship Woes
Speaking of news, Everett has some to share with Stephanie. Is he planning on sticking around Salem?
He turned up in town with quite a shocking story, and his presence has Stephanie on edge. Will she even want him to move near her?
As for Chad, he gets some relationship advice from Nicole.
She knows what it's like being a single parent stuck in the past and struggling to picture a future with someone new.
Will she guide him in the right direction?
Days of our Lives Spoilers: Li Breaks Down
Meanwhile, Li's emotions are all over the place. So much so, that Wendy takes notice.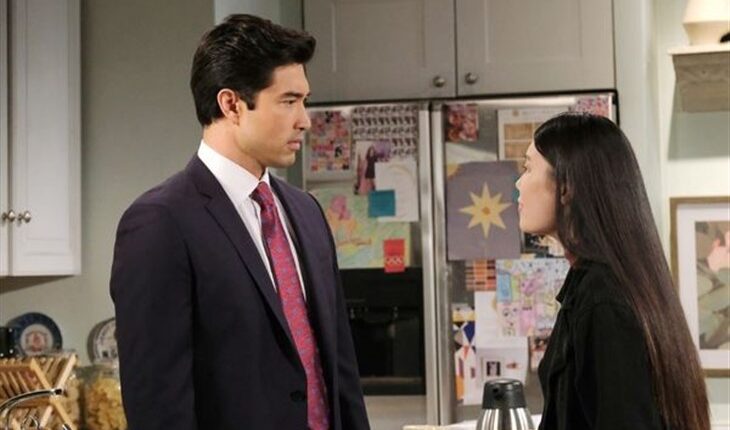 Her brother is struggling, so she does what any good sister would do — she steps up.
She offers words of comfort and a strong shoulder to lean on in his time of need.
In case you missed it, every Sunday, Sadly's very own in-house critic offers his curt, and heartfelt critique about Days of our Lives week that was.
If you missed their latest review, click sadly.info, get caught up, and then add your opinion to the comments section.
Days of our Lives airs weekdays on Peacock+ in the U.S. and The W Network or Global TV App in Canada.
For more about what's coming up in Salem, check out all the latest DAYS spoilers, and for an in-depth look at the show's history, click sadly.info.