It appears that Wendy Shin could be harboring a more sinister aspect to her character.
"Days of our Lives" teasers for Tuesday, November 7, 2023, hint at Wendy's intense reaction to Li's sudden and dubious demise.
She's furious to the point of seeing blood. Be sure to watch and discover how she copes with the consequences.
Days of our Lives Spoilers Highlights
Ever since her arrival in Salem, Wendy has maintained a good girl image.
Sure, she's schemed a bit, but it was always for good reason.
Wendy even bit back at Li when he was up to no good. Now, he's gone, and she's not feeling so nice anymore.
Wendy vows to make her brother's killer pay! She's not going to allow his death to be in vain and simply walk away.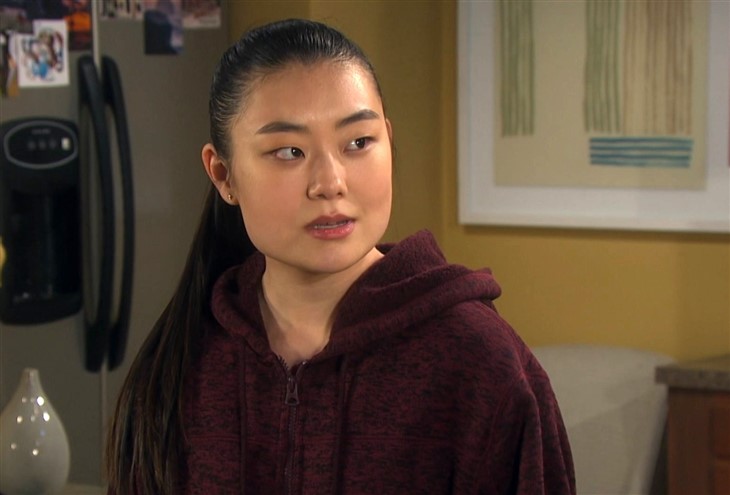 No! He didn't deserve this and she's going to do whatever it takes to bring his murderer to justice!
Days of our Lives Spoilers: The Main Suspect
As for his suspected killer, Gabi has some serious explaining to do.
Rafe sits his sister down and interrogates her to no end. He demands answers and warns her to be honest, or else!
The only way for Gabi to help herself is to spill every single detail.
Right now, Gabi needs to trust her brother — and get herself a good lawyer. Things are definitely not looking good for her.
Days of our Lives Spoilers: Another Big Twist
Unaware of the drama, EJ and Nicole look forward to a beautiful wedding night.
They are finally husband and wife and want to make the most of the romance.
Unfortunately, that's not going to happen…at least not yet.
Before they get a chance to head upstairs, Paulina shows up at the door.
She has an ace up her sleeve and can't wait to show it. How will EJ react?
Will this ruin his first evening with his brand-new bride? Or make it even sweeter?
Check out all the latest posts on Days of Our Lives spoilers, and for an in-depth look at the show's history, click Sadly.info.