The upcoming spoilers for "Days of Our Lives" for the week of November 13-17 indicate Sloan Petersen-Brady reaching her limit.
The collapsed adoption leads Sloan to believe she's depriving Eric Brady of his paternal rights.
She intends to admit to Eric that Nicole Walker-DiMera is pregnant with his child.
However, Melinda Trask intervenes to prevent Sloan from disrupting her life before they've considered all alternatives.
In a separate twist, EJ DiMera embarks on a frantic search for Nicole, who goes into labor following a car accident caused by Dimitri von Leuschner and Leo Stark, culminating in a chaotic situation involving a newborn.
After Leo hands over the baby to Dimitri, EJ locates Nicole and demands to know the whereabouts of his son.
Dimitri then unexpectedly passes the baby to Sloan, who learns of Nicole's predicament before Melinda suggests a contentious scheme.
Melinda proposes to bribe a physician to falsely declare Nicole's baby deceased, paving the way for Sloan to raise the child with Eric.
Meanwhile, Rafe Hernandez ensures Jada Hunter receives immediate medical attention after an injury.
He later confronts Leo about Dimitri's whereabouts.
As Eric comforts a distraught Nicole, EJ witnesses their intimate moment and is filled with envy.
Concurrently, Tate Black and Holly Jonas share their concerns over Nicole's situation.
Holly, alongside Johnny DiMera, visits the hospital, potentially leading to significant developments as they wait for news.
Following Melinda's corrupt plan, Nicole and EJ are misinformed about their baby's fate, unaware that the child is actually Eric's and in good health.
Leo eventually reconnects with Dimitri, who advises him to escape Salem while possible.
Elsewhere, Everett Lynch encounters Alex Kiriakis and learns of his past with Stephanie Johnson.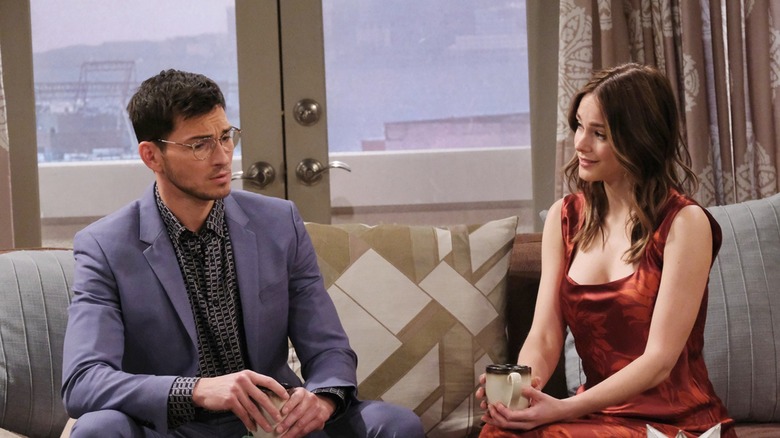 Steve Johnson harbors suspicions and warns Konstantin Meleounis, leading to Theresa Donovan receiving new commands from Konstantin, despite her reluctance.
Steve and John Black express concerns about Konstantin and consider a trip to Greece for investigation.
Chad DiMera plans to proposition Gwen Rizczech, which might influence the ownership of The Spectator and affect Everett's position.
Lastly, Sarah Horton accuses Xander Cook of deceit, fueling another clash between the two.
"Days of Our Lives" fans can anticipate a pivotal moment in Xander and Sarah's tumultuous relationship.
The source for these spoilers invites viewers to stay updated with the latest developments.
Sadly.info the place to be for exciting Days of Our Lives spoilers, updates and news, so make us your one-stop Days of Our Lives source.